Responsible investor
We see Socially Responsible Investment (SRI) as an intrinsic part of sustainable development. For this reason, we have made SRI the cornerstone of our investment decisions and asset management policy.
An SRI pioneer and leader
We are committed to investing responsibly because it is important for us that our investments reflect our values and societal commitments.
Driven by the belief that responsible investment is a key lever for sustainable development and medium-term financial performance, we have actively contributed to developing it over the last 15 years through:
•
our formalised commitments;
•
our involvement in various professional organisations; and
•
our investment strategy.

The responsible investment strategy consists of integrating Environmental, Social and Governance (ESG) criteria into the management of all assets managed by AG2R LA MONDIALE. The Investment Department ensures that all managers have access to non financial analyses and incorporate them in their decision-making process, in compliance with the Principles and Objectives for Responsible Investment adopted by the SGAM in 2016.
| | |
| --- | --- |
| 7 principles | Two objectives |
| 1. Ensure compliance. | 1. Reconcile economic performance and our commitment to society by supporting businesses and public entities in all sectors that contribute to sustainable development. |
| 2. Take an overall approach to financial performance and security. | 2. Influence governance and stakeholder behaviour to promote a responsible economy. |
| 3. Assimilate to the various investment universes. | |
| 4. Aim for progress and continuous improvement. | |
| 5. Remain vigilant and promote dialogue. | |
| 6. Ensure accountability. | |
| 7. Actively promote responsible investment. | |
The policy also led the Group's governing bodies to decide to adhere to the United Nations Principles for Responsible Investment (UN PRI) at the end of 2017, a decision formalised in early 2018.
Since the end of 2017, the SGAM has also applied the ban on investing in certain highly controversial sectors:
• weapons prohibited by conventions signed by France;
• tobacco;
• high coal-consuming companies.
The policy also led the Group's governing bodies to decide to adhere to the United Nations Principles for Responsible Investment (UN PRI) at the end of 2017, a decision formalised in early 2018.


The investment policy is particularly selective and discriminatory in managing AG2R LA MONDIALE's SRI funds, which were created in the early 2000s and now represent close to €10 billion. The main SRI equity and bond funds eligible for the public SRI label obtained it from AFNOR (the French standardisation association) in 2017. They represent more than €3 billion. These funds retain only half of the companies – those with the best ESG multi-criteria ratings – in each sector.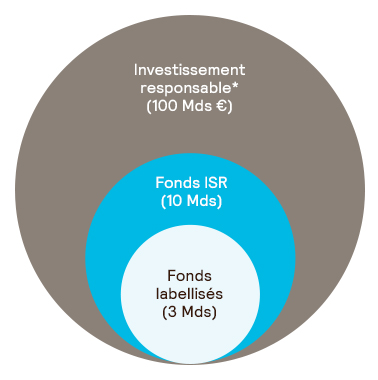 Non-discriminatory approach where managers incorporate ESG criteria when selecting securities (shares, bonds).

Strict screening process where managers select the 50% best securities for each sector according to ESG ratings, prior to financial screening.
SRI mutual funds that can comprise more than 70% of government bonds are not eligible for the public SRI label.

* Including €1 billion in real estate meeting French HQE® high environmental quality standards TARGET: 50% of buildings certified HQE® in 2019
Making finance serve collective needs
In keeping with our commitment to society, AG2R LA MONDIALE is a shareholder of France Active, the first social impact investor. Our purpose is to support companies that act in favour of society and integration through employment.
We strive to promote regional economic development and employment. That is why we are active in the private equity market with an annual commitment of €100 million.
With €1.2 billion in direct loans and debt funds, we also invest in small- and medium-sized companies and local authorities that do not have direct access to financial markets. For example, we have subscribed to 80% of the Banque publique d'investissement's (Bpifrance) debt fund.
Our commitment to combating climate change and supporting the energy transition has seen us invest in such environmental funds as Demeter and Brownfields, and we are also a major investor in green bonds (some €800 million).

Limiting the environmental impact of our physical assets
We are working to ensure the energy efficiency of our investment and operating property portfolio, which represents almost 459,000 sq.m of primarily commercial offices.

Our goal is to achieve HQE®(1), LEED® or BREEAM® certification for 50% of our portfolio by 2020 (compared with 20% today), as well as a 30% reduction in our 2012 energy consumption by 2019.
To achieve these goals, we are simultaneously rolling out several initiatives:
•
restructuring two 32,000-sq.m and 45,000-sq.m buildings;
•
building an office block in Paris' Batignolles eco-neighbourhood in the 17th arrondissement that meets high energy efficiency standards, mainly thanks to its heavy reliance on renewable energy;
•
acquiring a building in the Parisian suburb of Boulogne-Billancourt that is HQE® certified for both its construction standards and operational performance;
•
obtaining HQE Exploitation® certification for a building located in Paris' La Défense business district and BREEAM® certification for another building located in the city;
•
using the energy savings certificate system and choosing a 100% green energy supplier for our entire property portfolio.
(1) HQE®: Haute Qualité Environnementale (High Quality Environmental standard)
LEED®: Leadership in Energy and Environmental Design
BREEAM®: Building Research Establishment Environmental Assessment Method
Read our 2018 Responsible Investment Report for detailed information for integrating environmental, social and governance issues into investment strategy :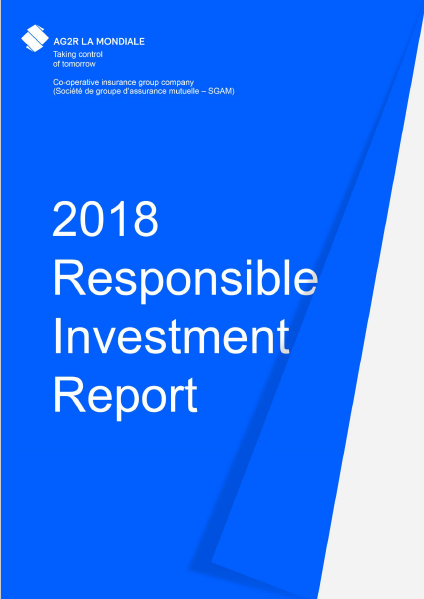 Follow the links to find out more
Download the Principles and Objectives for Responsible Investment (in French)
Download the Transparency Code for SRI funds (in French)
Consult the PRI website
Consult the SRI Label website
Download the climate Policy (in French)
Download the Shareholder Engagement Policy
Download the Report on the implementation of the 2019 shareholder engagement policy (in French)
Download the Annual SRI list (in French)
Download the exclusion policy for tobacco
Download the Responsible Investment Report
Download the exclusion policy for weapons
Download the exclusion policy for tobacco
For financial information, please contact us.
See our financial results (in French)